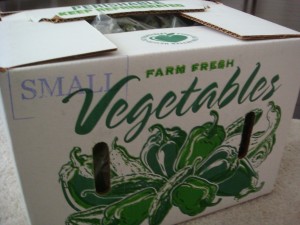 Over the past few months my girlfriend and I have been looking for ways to live a more sustainable lifestyle.  I decided to forgo buying a car (using a combination of my bicycle and public transportation instead), found new ways to clean around the house using non-toxic ingredients and recycled materials, and now have joined a community-supported agriculture (CSA) program to source part of our food locally.  There are all sorts of CSAs out there (meat, dairy, fruit) and various size shares available, depending on the farm, but we chose to keep it simple with a small vegetable share for our first CSA experience.
Here are two reasons we joined a CSA and what we've enjoyed about it so far:
Fresh LOCAL Food
We try to eat fresh foods as much as possible, but finding locally-sourced food is a bit more of a challenge.  I've wanted to join a CSA for many years, but with the move to Japan and being a broke college student before that, it never was a possibility.  However, now, for five months of the year we have our vegetables traveling 110 miles from southern Pennsylvania to our table.  This isn't as close as I wanted it to be (we signed up late, so this was the closest CSA I could find with shares still available), but it's certainly more sustainable than the 1400-mile average that most food travels before it gets to your kitchen.
Trying Out New Foods
Getting a box of in-season vegetables forces us to try out new veggies that we wouldn't normally have purchased.  For example, prior to joining the CSA, the only time I had ever bought a beet was as an accessory to my Dwight Schrute Halloween costume.  Sure enough we got a bunch of beets in our first box of veggies, so I got online and found a delicious recipe for roasting beets- we ate every part of the beet!
Every Thursday we pick up our box from our local drop point and it's always exciting to see what's inside for the week.  We're looking forward to more fresh, locally grown foods coming our way, maybe adding a fruit share, and we're hoping to find a CSA for other seasons as well!  Has anyone else had any experiences with CSAs?  Please leave a comment!