I've moved twice in the past month and a half and have learned a few things in the process: summers are real hot in D.C., your bags should always fly free, second chances don't come often, and the more stuff you have the harder it is to move around.  I have spent part of the last few weeks trying to cut down on the amount of stuff I own by applying minimalist principles to keep possessions to a manageable amount (i.e. an amount that fits in two suitcases).  I've cut this extra weight by recycling, donating, gifting, and selling various possessions.  For selling things I have primarily used eBay, although there are various other options (Craigslist, Amazon, etc).  Here is the step-by-step process I used to make $60 yesterday selling old basketball trading cards for only 45 minutes of work.
1. Find something to sell
We all have things lying around, stored in closets and attics, and hidden in the back of drawers that we could sell.  What is key here is eliminating waste.  If it's just collecting dust, why not sell it to someone who will use it?  Those clothes that we might fit into again someday, those CDs and video games from eighth grade, that old super calculator from calculus class, they all can go!  If they haven't been used in the past twelve months, will they ever be used?  Probably not.  I started using eBay in college to sell off things before I moved to Japan and have sold everything from textbooks, graphing calculators, trading cards, video games, DVDs, shoes, bags, and watches.
2. Do your research
Search eBay for what you want to sell and see how much they are selling for.  Also try an advanced search and select Completed listings under the Search including category.  This will give you an idea of what is worth selling.  If your Pez dispensers are only going for $0.79 they are probably not worth taking the time to list them.  After researching, if it doesn't look like the item will fetch $5 or $10 it isn't worth investing the time to sell it.  Instead, look into recycling or donating it.
3. Take Pictures and Write a Description
So you know what you want to sell and what will sell.  Next you need to market your item.  First, you will want to add pictures, probably multiple pictures.  Add good pictures.  No blurry or old shots.  Use current pictures that show the item in a good environment.  Edit them if you need to– not to hide faults with the item but only to improve the picture's quality.  If you have multiple items to sell, then bunch the work together.  Line the items and take a picture of each, one by one.  After you have finished taking pictures upload them to your computer.
Next you will need to write a description about the item.  Describe the item in detail, including the condition it is in.  Be completely honest, otherwise you will have to deal with the hassle of returns and sending the money back to your buyer.  Mention any damage or wear that is on the item.  Include any important, main details in the title of the listing.  Most importantly, you want to make sure that your item will come up on multiple searches (search engine optimization) and then think about "selling" it to potential customers.  (If it doesn't come up in a search result, no one will buy it!)
4.  What do you do about the shipping?
This is the question I am asked the most about selling on eBay.  You are in charge of seeing that the item gets sent to the buyer after they have sent you payment for the item.  So what's the best way to ship your item?  Well, there is no one right way.  I have always used the United States Post Office to ship my items.  There are three main ways that I ship items through the US Post Office:
Priority Mail Flat Rate Boxes/Envelopes
The USPS has recently begun using flat rate boxes to ship items.  This is by far the simplest, easiest way to ship anything.  If it fits in the package it ships for that price.  There is no need to worry about the package weight.  I use this most of the time.  I pay my shipping online and print the shipping labels at home.  Then all I need to do is swing by the Post Office and drop off the package, which as anyone who has ever been to the post office knows, saves a lot of time by not having to wait in line there.
Standard Priority Mail
Depending on the item's weight, the regular Priority Mail can either cost more or less than shipping the item using the flat rate boxes.  The only downside is that you'll need to know the weight of the item if you want to print the shipping online and avoid waiting in the post office.
Media Mail
This is the cheapest way to ship, but also one of the longer options as it can take up to a week and a half to arrive (although is usually there in less).  As the name states however, it is only available for media items (DVDs, books, CDs, etc).
6.  Pricing
There are two ways to go about this:
1) Set the starting price to $0.99.  A bidding war will start and over the last few days the price will gradually up higher and higher.  This works with most items, especially if they are more popular and will be getting a lot of hits.

2) Set the price to a modest starting amount.  Remember these are things you want to get rid of, so price to sell.  Don't set some ridiculous starting price based on retail value or your attachment to the item.  An item can always be bidden higher, but it won't move if your starting price is too high.  I price this way only with items that serve a more niche category.  A Playstation 2 should be started at $0.99, a size 7.5 women's Capezio tap shoe would be better served starting around $9.99.
5.  List Your Item and Wait
You've found an item that will sell, taken pics of it and written a description, and decided how you will ship it.  Now all you need to do is list the item.  This is pretty straightforward thanks to eBay.  I usually make the item a seven-day auction item.  For payments, there are several options to receive the money.  I recommend using Paypal— it's the most efficient and hassle-free method.  After the seven days are up, the auction has ended, and the payment has been received you can then ship the item.  I always pack the items right after I list them, so once the payment clears all I need to do is print a shipping label, slap it on the package, and drop it off at the post office.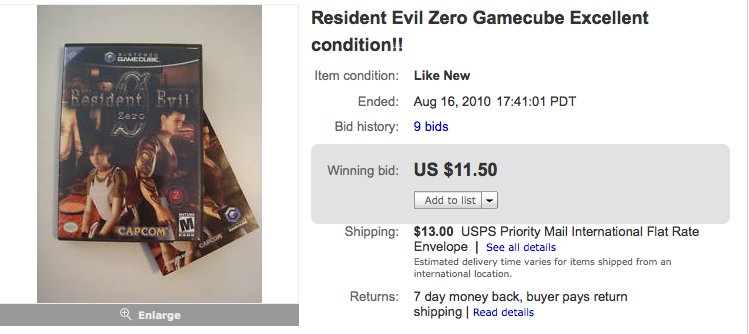 So there it is, everything you need to know about selling on eBay!  Has anyone else sold on eBay successfully?  What are some suggestions that other people have to make selling on eBay easier?  I look forward to hearing everyone's feedback!