The sun is shining down.  There are a few seagulls flying back and forth overhead; and the air is filled with a moist, salty sea breeze.  Straddling the board like a marine cowboy, you wait during a lull in the waves for the next good one, your next good ride.  Then you see it, coming toward you from the horizon.  As the wave rolls closer and closer it gathers size and speed.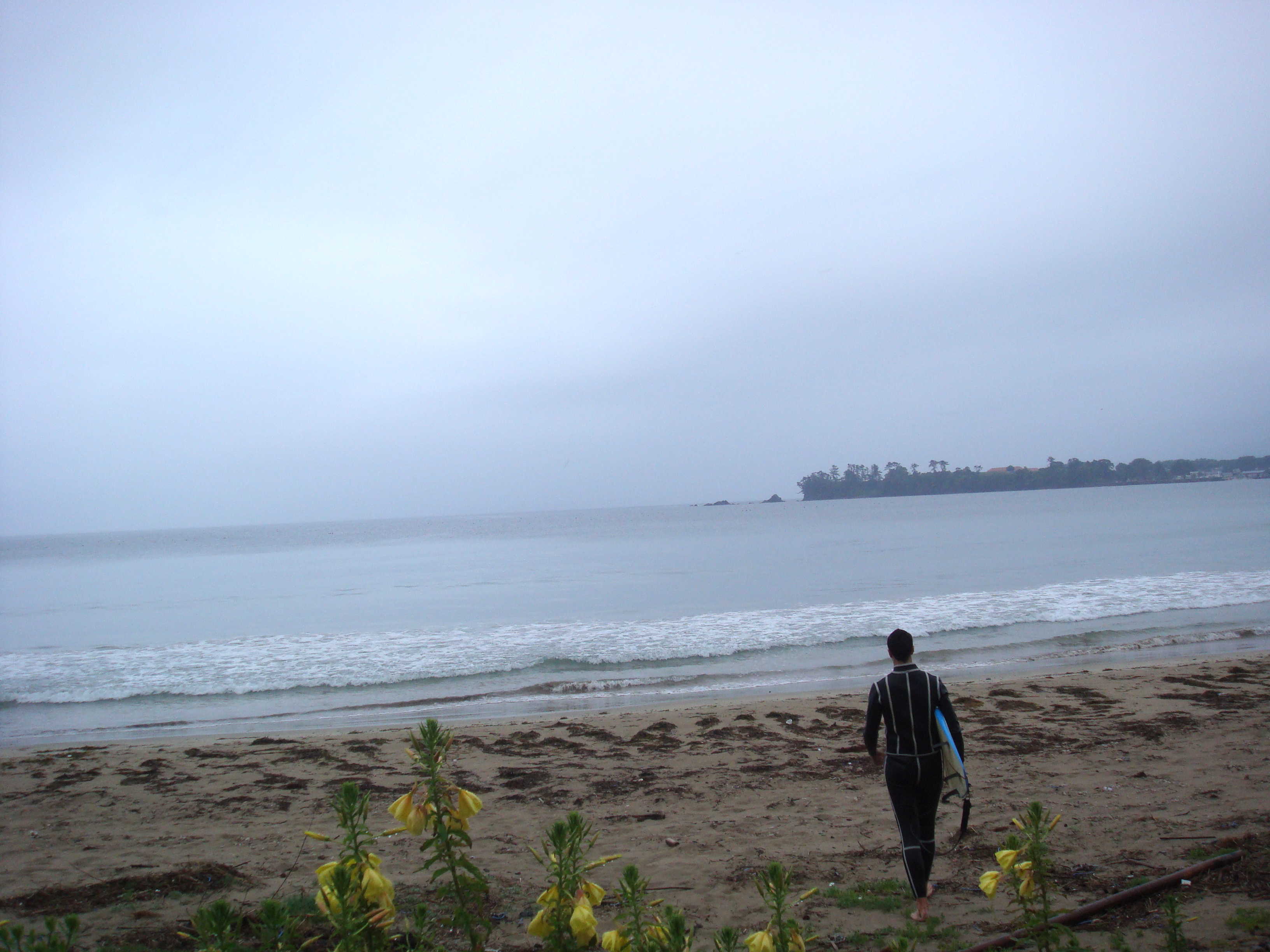 Your excitement builds in anticipation.  When it gets a little closer you lie down on the board and start to paddle hard and fast.  You feel the wave cross your feet and move up your legs.  You paddle frantically for one last final push.  Then it's time.  You grab the rails of the board and pop up, swinging your feet under your body.  You're standing on the surfboard now; but you might as well be on top of the world, because that's how you feel at this moment.  You are doing the impossible– standing on water.  Surfing is one of man's many attempts to overcome the forces of nature.  But in this case, there is no heavy machinery, or big engines required.  It's just you and the board floating around in a huge ocean…
The following are six reasons why I love surfing and can't get enough of it!
"My Secret Place"
I'm going to take you to my special place, It's a place that you, Like no one else I know, Might appreciate.

– Joni Mitchell, My Secret Place
I live in Motoyoshi, a small coastal town in northern Japan.  It's not actually a 'secret place', but it certainly isn't very well-known outside of Miyagi prefecture.  My apartment is in Tsuya, the central part of town, and a five to ten minute drive from two good surfing spots.  One of those spots is Koizumi beach, where occasionally even pro Japanese surfers will show up.  There is a cute little surf shop, the only one in the area, across the street from the entrance to the beach.  It's called Kabuto Mushi, named after the rhinoceros beetle, a beastly little creature in and of itself.  I can surf any day I want with good surfers around–an opportunity that won't be available to me once I move to Washington D.C. in August.  It would be a waste not to take advantage of this chance.

"The Way You Make Me Feel"
The way you make me feel, You really turn me on, You knock me off of my feet, My lonely days are gone.

– Michael Jackson, The Way You Make Me Feel
I've always loved being in the water.  As a little boy I spent most of the summers swimming in the family pool.  It is so refreshing to get in the water for a swim or a surf.  Getting up on the board is so rewarding; it's like flying solo down your street for the first time without training wheels.  The invigorating rush and speed I feel when getting up on a wave is amazing.  It's a fabulous thrill and each ride is unique.  Regardless of the size of the wave, I feel tall– very tall– as if I am flying on top of the world and time has stopped.

"Oh We're Absolute Beginners"
Nothing much could happen, Nothing we can't shake, Oh we're absolute beginners, With nothing much at stake.

– David Bowie, Absolute Beginners
I also love how easy it is to start surfing, even as a complete beginner like myself.  What do you need to get started?  Not a lot.  There are three essential items: a surfboard, leash (to tie your ankle to the board), and some wax.  After that, depending on your location and the water temperature you may need a wetsuit.  That's all.  The board and wetsuit are the only things that can be cost prohibitive, but they don't have to be.  I've got a longboard that I bought used for 20,000 yen ($200), and a hand-me-down wetsuit that was probably made before parachute pants came out.  The two-piece overall and jacket wetsuit is not going to win any fashion contests, but it lets me extend the surfing season a few extra months.  I like to think that I am bringing the retro style back.
"Risin' Up to the Challenge"
It's the eye of the tiger, It's the cream of the fight,
Risin' up to the challenge of our rival.

– Survivor, Eye of the Tiger
I love the excitement and inspiration that a new endeavor brings.  It gives me an adrenaline rush that provides me with the determination and will to overcome the challenges that I come across.  When I started surfing, getting up on the board seemed so difficult; but with a little practice it is becoming second nature.  Now I'm excited to start riding the waves longer, with dreams of some day being able to do some sweet tricks like this.
"Work that Body"

Work that body, All that body, Work that body, Everybody.

– Michael Jackson, Work That Body
Surfing is a workout, no doubt about it.  It's an intense workout for the back, arms, shoulders, legs, and core.  You are usually out in the ocean for a while, kicking, paddling, and pushing up off the board.  It's is an excellent cardio workout, and it builds endurance and tones muscles as well.  Furthermore, it's great for your state of mind.  There is a reason surfers tend to be more laid back– getting out in the water and feeding off the ocean's energy reduces stress by taking your mind off of work and whatever else may be bothering you and bringing you back to nature.
"A Child of Nature"
I'm just a child of nature, I don't need much to set me free.

– The Beatles, Child of Nature
Surfing just feels more down-to-earth than a lot of the other things we do for recreation these days.  There's hardly any gear required.  There are no machines or engines.  And for that time you are in the water, you are free like nature intended.  There is no work, no TV, no cell phones, no Twitter; it's just you and the board floating in the water in a blissfully serene moment.  Surfing paradoxically gives you the thrill of adventure sports while calming your nerves and clearing your mind.  It is a truly natural sport, directly harnessing the power of nature for an intense, one-of-a-kind ride.  Sometimes you get the upper hand and take nature for a spin, other times nature wins and slams you to the ground.  Either way, you will be ready to head back out, already thinking about the next wave.